Home
-
NEWS & BLOG
-
What kind of multimedia navigation player can turn the car into a "leisure station"?
What kind of multimedia navigation player can turn the car into a "leisure station"?
The Android car multimedia navigation player is a device designed for car use that runs the Android operating system and provides multiple functions. It typically includes a touchscreen display that can be used to play music and video, navigate, make phone calls, and more. And these features have become the basic requirements of consumers for cars.
These devices often come with pre-installed apps that can be accessed directly from the home screen, such as music players, web browsers, and navigation apps. Many of these devices are also capable of connecting to the Internet via Wi-Fi or cellular data, allowing users to browse the web, stream music or video, and download applications directly to the device.
Android car multimedia navigation players are designed to fit in car dashboards, often replacing factory-installed head units. They are generally compatible with a wide range of car models and can be connected to the car's existing speakers and controls for seamless integration.
What kind of multimedia player can allow consumers to give high marks to the vehicle?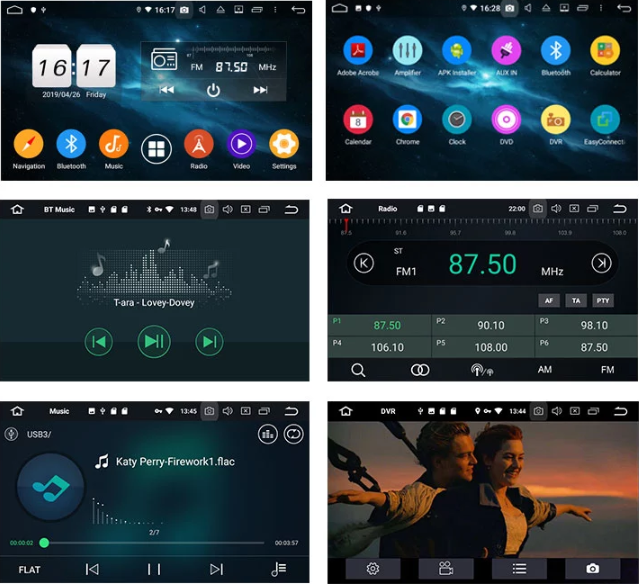 Large and clear display: Car owners usually prefer a large and clear display for easy reading and navigation while driving.
GPS Navigation:A good GPS navigation system is very important for car owners to obtain accurate and reliable destination directions.
Multimedia Compatibility:Car owners typically expect a multimedia player capable of playing multiple audio and video formats, with a user-friendly interface for accessing and managing media files.
Bluetooth connectivity:Car multimedia players with Bluetooth connectivity allow car owners to connect their smartphones, make hands-free calls and stream music wirelessly.
Ease of use:A good car multimedia navigation player should have a user-friendly interface and be easy to use while driving.
Choosing a suitable and excellent multimedia navigation player can bring you unexpected benefits!
Reduce unnecessary travel waste: The high-quality multimedia navigation player can provide more accurate and up-to-date maps, segmented navigation and road condition updates, making it easier for you to navigate on unfamiliar roads and reach your destination more efficiently. Some multimedia navigation players also offer voice control, allowing you to keep your hands on the wheel and eyes on the road while giving commands.
Excellent entertainment experience: A good multimedia navigation player can also provide multiple entertainment options, such as music streaming, video playback, and mobile application integration. This can make your driving experience more enjoyable and keep you entertained during long journeys or traffic jams.
Stay away from dangers in driving:The multimedia navigation player with advanced safety features can help you drive more safely, such as lane departure warning, collision avoidance and rear view camera display. These features can alert you to potential hazards on the road and help you avoid accidents.
Discover surprises: Some multimedia navigation players offer additional features that can provide unexpected benefits, such as weather updates, fuel prices, and local points of interest. These features can help you plan your trip more efficiently and make the most of your time on the road.
How to choose the multimedia navigation player suitable for different car models ?
Each car model has different characteristics, how to choose a multimedia navigation player that matches the car model, you need to consider the following factors:
Compatibility:Make sure the multimedia player you choose is compatible with the car model you own. Some media players may only be compatible with certain models or makes of vehicles.
Size and Display: Consider the size of the multimedia player and its display. It should fit on your vehicle's dashboard and be easy to read while driving. Also, make sure the display is bright enough to be seen during the day, but not too bright at night.
Connectivity: Look for multimedia players with multiple connectivity options, such as Bluetooth, Wi-Fi, USB, and AUX. This will allow you to connect a variety of devices to your multimedia player, including smartphones, tablets, and MP3 players.
Sound quality: The sound quality of the multimedia player should be clear and crisp, without distortion at high volume. You should also consider the number of speakers and their placement in the vehicle.
Features: Look for a multimedia player with features that are important to you, such as built-in GPS, rearview camera compatibility, and support for popular audio and video formats.
User Interface:A user-friendly interface is very important for easy navigation while driving. Choose a multimedia player with a simple, intuitive, and easy-to-use interface.
Brand and price: Consider the brand and price of the multimedia player. Make sure you choose a reputable brand that offers good support and warranty. Also, choose a multimedia player that fits your budget and is worth the money.
What are the advantages of KLYDE?
Excellent and experienced technical team:KLTDE has 320 employees, including 43 excellent R&D engineers and technicians. During KLYDE's 12 years of research and development and polishing of car multimedia navigation players, they have continuously accumulated experience and summed up technology, aiming to create the best quality products for every customer;
Excellent cost performance: KLYDE provides OEM services for many countries and brands (including Tesla, BMW, Mercedes-Benz, etc.). Our experience and technology can be said to be perfect. We can create the most suitable product for you at the lowest cost;
Complete business license certificate: a complete business certificate is the most basic guarantee for customers, making the cooperation between us easy and comfortable, without any worries;
Production and shipping efficiency:KLYDE has complete production workshops and factories. With stable technical support, we can guarantee a production efficiency of 3,700 units per month, so that you no longer worry about the problem of not being able to supply goods in time.
Epilogue
Nowadays, what people care more about is not just the so-called "enough is enough", a product from the general direction to the small details can win the emotional recognition of consumers. From a marketing point of view, only obtaining the emotional recognition of consumers is the magic weapon to increase repurchase, build a reputation, and expand the market.
KLYDE multimedia navigation player always pays attention to the C-end experience while taking into account the interests of the B-end. Our purpose is not only to provide you with the most cost-effective multimedia player, but also to contribute to your business or brand communication!