Experience the Future of Automotive Technology with a Car with a Large Display
What does a large display car do?
You can use the finest car with a large display to access and control your phone, music, and other applications while on the road. The displays are designed to fit easily into your car's dashboard and provide drivers with a straightforward, basic experience.
The technology allows drivers access to apps, navigation, media, and other services through an infotainment system based on the Android operating system. This device has a touchscreen display to make things easier and more intuitive for drivers. Additionally, customization may be used to meet the unique needs of each user.You may pick a powered vehicle display that best meets your needs, whether you're looking for a way to stay connected while driving or prefer a better entertainment experience.
Why are large display cars so widely known?
Here are some tips for making the most of the greatest Android display for a car:
GPS navigation on a large screen:
Touchscreen stereos with GPS navigation are incredibly practical and handy. If you want to spend less on integrated navigation and future map updates, look for a touchscreen radio that supports Android Auto, such as the Klyde Car Radio Touch Screen. With this option, you may use your smartphone to access navigational tools like Google Maps. The map looks fantastic on the big radio display in the car.
Your touchscreen media might be helpful if you have a backup or rearview camera. You would be safer if you were to start backing up, which would assist you in avoiding mishaps. In regions where your car's body limits your vision, especially in low-light conditions, its wide field of view provides you with more information about what is behind you than a mirror. Nowadays, many new radios include several camera connections that let you use the built-in cameras or add third-party cameras for things like your side view, which is displayed on the touchscreen display.
Provides a lovely, substantial screen with phone service:
Modern receivers' widescreen screens make them considerably simpler to view than single-line displays of earlier car stereos. You could notice what's on, who's calling, and where you're going in a split second. This is perfect for keeping you from using your phone because many of these receivers let you replicate your smartphone experience directly on the receiver's touchscreen.
An educational and adaptable display: 
You may change the Car Radio Touch Screen's backdrop and style in addition to the music and caller information shown on the screen. Consequently, you may arrange the features you use the most while also expressing yourself through the design of your dash. You may easily change the tone settings on a receiver while the car is parked to obtain the best sound. Some automobiles could even have temperature controls.
What qualities of a car with a large display make it the best option for your car?
Most features on a car radio touchscreen are unrelated to driving or safety and are available in addition to the necessary driving controls. Other tasks take a little moment to do, such as keeping an eye on the speed, turning on the indicators, and using the wipers. The navigation system's navigation function allows for the input of a destination and adjustments to the music level, cabin temperature, air conditioning, and personal settings in the vehicle.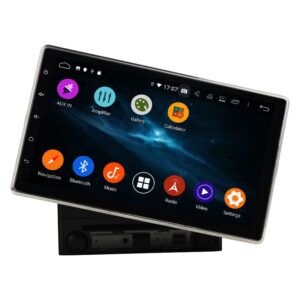 Why is KLYDE the greatest car with a large display in China's top automotive market?
KLYDE Electronics Co., Ltd. is a well-known brand, a Chinese maker of the finest car with large display. KLYDE was established in 2009, and as a consequence of our ongoing product innovation and development, we have become the year's leading brand.
Our main objective is to provide you with the latest things to meet your demands. KLYDE has established trustworthy relationships by providing countries with goods of the greatest grade as we expand around the globe.
Please contact us so we can address your problems and answer your questions. We are prepared to assist. To provide you with the best purchasing experience possible, we only deliver our products after they have successfully passed a quality test.
We've been on this journey for more than 12 years and still produce top-notch goods for our devoted customers. While many companies are decreasing their standards and becoming smaller, we are expanding our platform to give automotive audio makers a big improvement.
Our company has a space of 12,000 square metres. We have more than 300 employees, including highly skilled and knowledgeable technical engineers.
Why does a driver utilize a car with a big display?
Large screens in contemporary automobiles give drivers useful information. Driving may be safer and easier thanks to this technology. It may also keep motorists occupied and can also keep them amused while driving. This article looks at the advantages of having a big display in your car and how it may keep you connected and safe.
For drivers, having a car with a huge display may be helpful. The benefits of having a huge display in your automobile are obvious—from giving you access to more information than a regular dashboard to boosting sight and enabling safer driving—too many other factors. You can access navigation, entertainment, and even the internet in a car with a huge display.
Conclusion:
A bigger display improves everything from navigation to entertainment for the driver and passengers. Modern automobiles are getting more and more sophisticated and have bigger screens. The top car manufacturer with large display entertainment systems is KLYDE. After 12 years of expansion, we now have a skilled crew with extensive expertise in installing car audio, and security systems for all makes and models of vehicles. To guarantee that every client receives the greatest service, each team member is highly skilled in providing our services to a very high degree.